Set designer Melissa Cripe's 7th Ward home features vintage finds and movie props | Details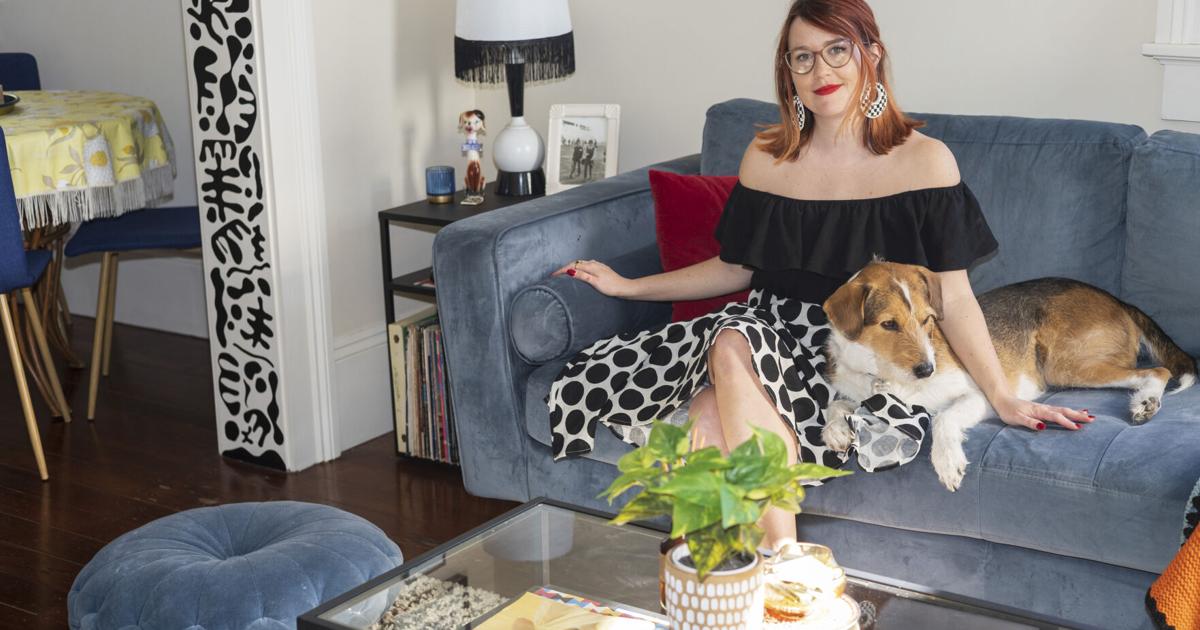 When Melissa Cripe signed the lease on her 7th Ward shotgun apartment on her 28th birthday last March, it was the beginning of a new chapter in her life. She was moving from her native California, looking for a change of scenery and the chance to finally live in the city she'd always dreamed of living in.
Her mom worked in the city when she was younger, and Cripe remembers seeing Jazz Fest photos dating back to the 1980s.
The space has come a long way since she first moved in. When she made the big move from the West Coast to the Gulf Coast, she packed only what could fit in her car. Aside from a handful of tchotchkes and a pair of oversized lips, Cripe started from scratch. For a little while, she only had a couch, and she and her dog Harvey would fight over it.
"The first two weeks, I got this couch from Facebook Marketplace," she says. "It was just this couch [in the apartment] and Harvey would get grumpy, so I'd sleep on Harvey's dog bed so he could sprawl out."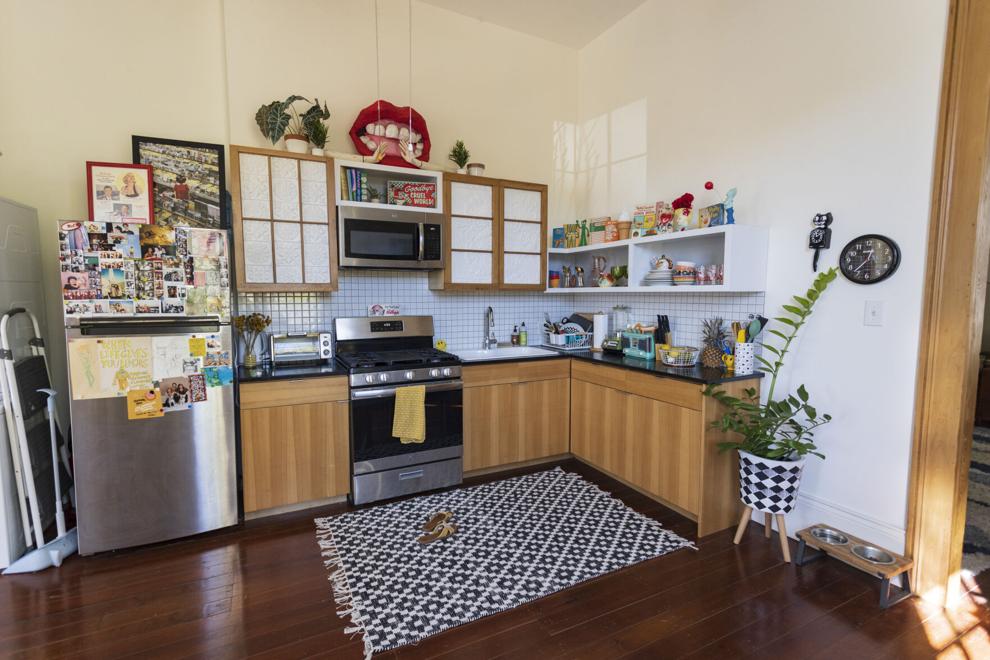 Moving during the pandemic gave her time to make her space her own, and she was determined to make her rental look anything but cookie-cutter. A set designer, Cripe already had a keen eye for styling spaces, so she immediately began scouring Facebook Marketplace, Merchant House on Camp Street and Etsy, in addition to other local thrift stores and antique malls to curate a cozy and whimsical feel.
For thrifting furniture and tchotchkes in her home, Cripe likes West Bank Flea Market, Red White & Blue, and the Magazine Street Antique Mall. But she's also gotten pieces outside the city, like from second-hand stores in Bay St. Louis.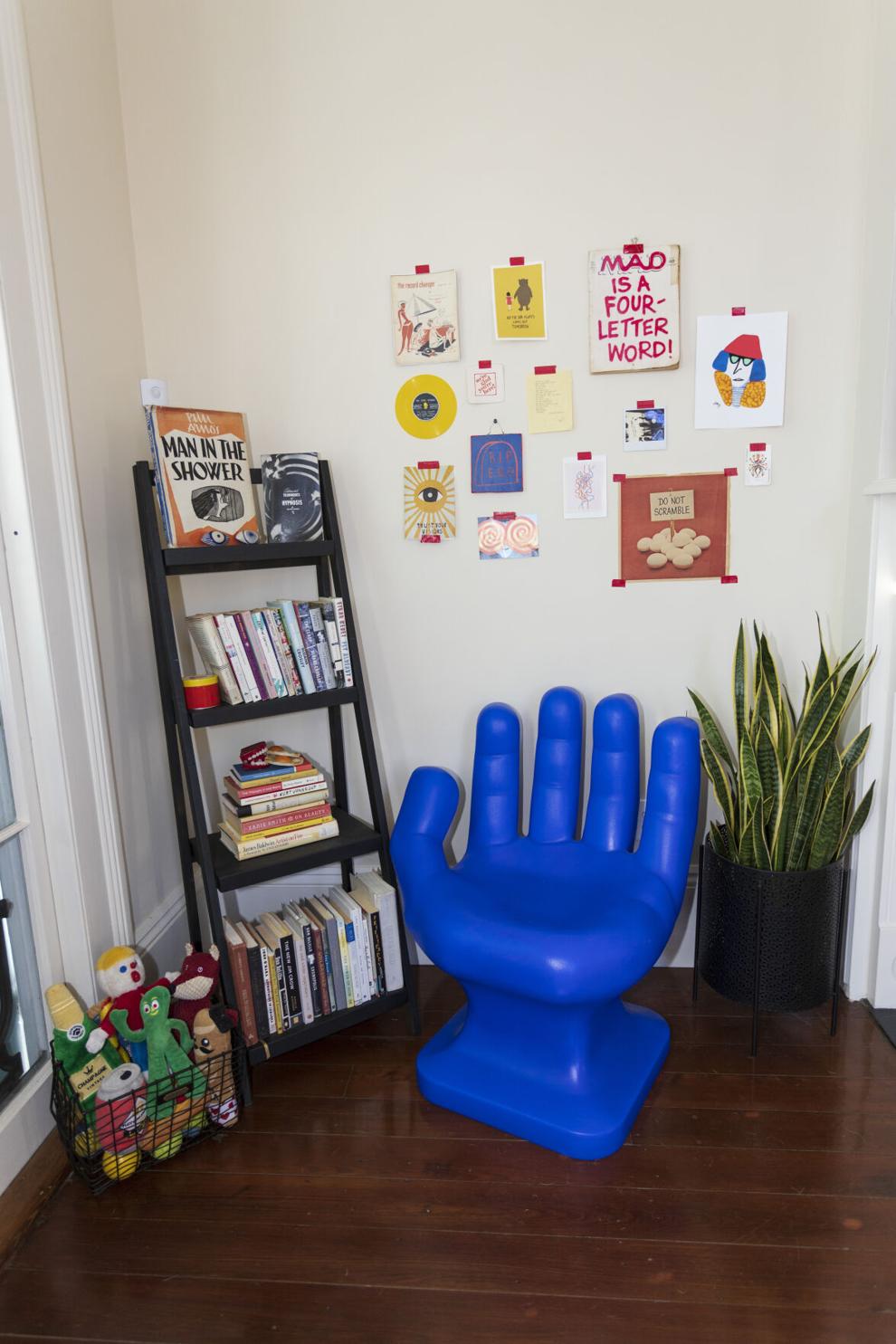 "It's a constant treasure hunt for things," she says.
Rather than just, she aims to create individual "worlds" through her decor and cites Wes Anderson sets as an influence.
"It's not just something looks nice here," she says. "It's like looking at someone's brain on the wall. It's a particular point of view … The two moods are either extrovert or introvert."
Cripe's 800-square-foot apartment, which she shares with her roommate musician Sasha Masakowski, feels fresh and light with a distinctly different feel between the common areas and her bedroom. It's more spacious than her cramped Los Angeles digs. Plus, 12-foot ceilings and lots of natural light help make the space feel bigger than it is.
She describes the living room as "playfully perverse" with a cobalt blue hand chair and vintage Playboy magazines tucked underneath her glass coffee table. Mannequin arms and legs are irreverently strewn about the apartment. She favors the silly and absurd, such as fake food, and strives for a Pee Wee's Playhouse meets Alice in Wonderland aesthetic.
"I think it's just nice to have fun," Cripe says. "It's that game of what do I need versus what do I want."
Nostalgia runs throughout the space. One of Cripe's most prized possessions is the first compact disc player she bought in the third grade. The CD player component doesn't work, and the radio only picks up one station — WWOZ. There are also pieces from her 90-year-old grandmother, including her grandmother's first recipe book from 1950, a stack of vintage Life magazines, a gold mirror and a hand-braided rug originally from her great aunt.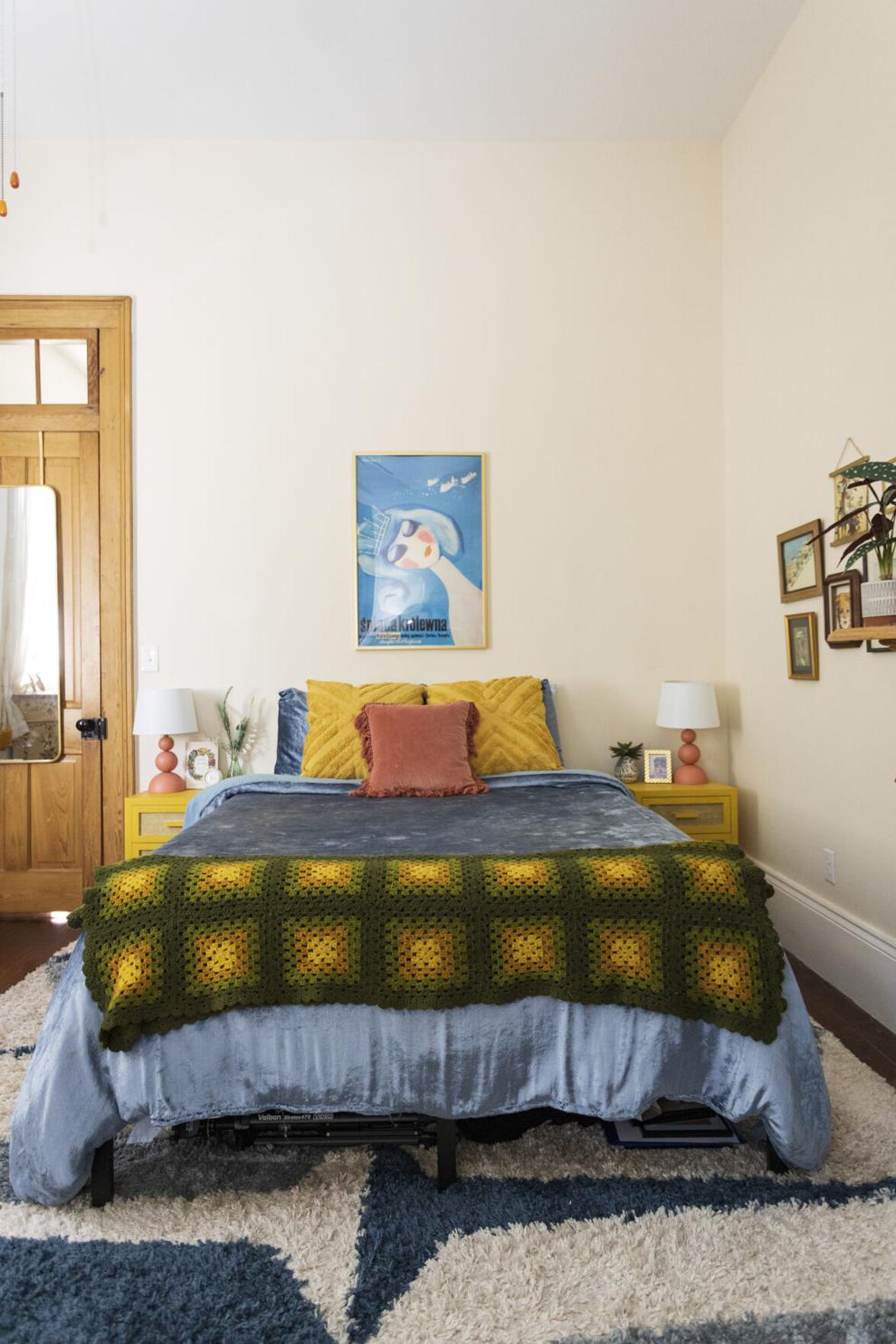 A color-lover, Cripe was initially resistant to having any black in the house, but her landlord was insistent on keeping the black kitchen countertops, which were sourced from a former school science lab. So, Cripe embraced it and painted part of the fireplace black and stenciled in an abstract, Matisse-inspired black border with vinyl cutouts along the threshold connecting the living room the kitchen to tie it all in.
"In anything in life, when you can't get what you want, you have to pivot," she says.
The living room and kitchen are bold with primary colors. The bedroom is "girly and sweet," with clothing racks displaying Cripe's complementary wardrobe, a mix of vintage finds and contemporary pieces.
"I had to give myself permission to let different spaces serve as different functions," she says.
Yet here's still a sense of cohesion throughout the apartment thanks to Cripe's discerning eye. Records line a wall and there are vignettes scattered throughout the apartment, such as vintage drinking glasses on a kitchen hutch.
"I love text and type," she says. "So anything that I can find with some fun font and story [I love]."
The transition from California living to life in Louisiana was an adjustment, albeit a welcome one. In Los Angeles, Cripe said relationships tend to be more transactional and people are more concerned about moving up the career ladder instead of building community.
Cripe quickly settled into her new life thanks to starting a restaurant job while she worked her way back into set design. Working at a restaurant was a nice break from her chosen industry.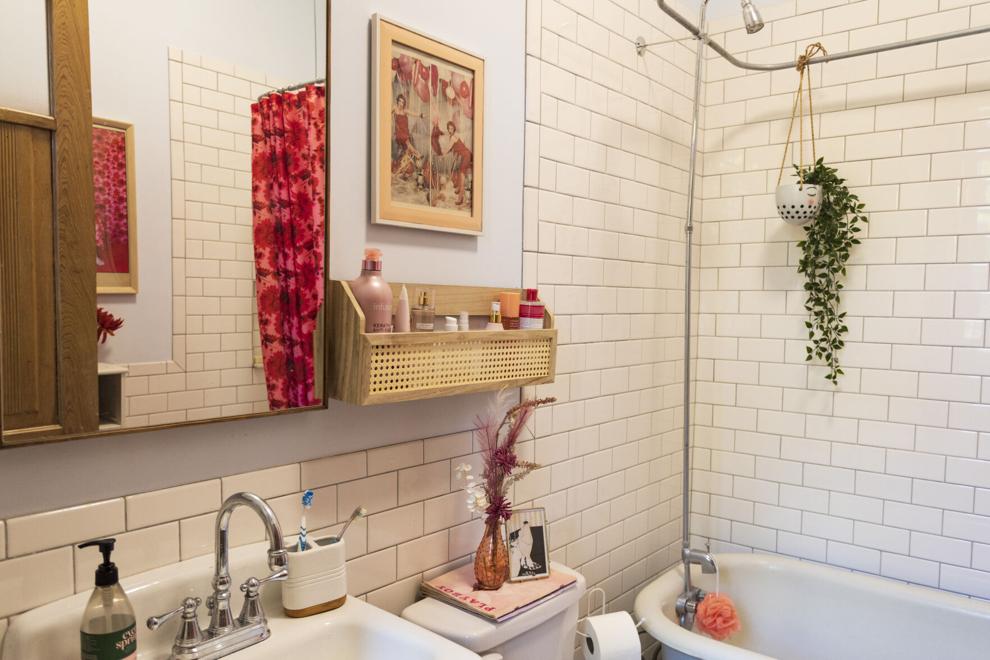 The priority was "to find friends to weather storms with, because I'm terrified of literal and emotional storms," she says. "I'm really grateful for that experience [of working in a restaurant]."
With so many events happening in the city again, Cripe wants to take advantage of all that New Orleans has to offer, especially going to see live music. "To not participate seems like you're not utilizing the magic of this place." While the pandemic made it tough for Cripe to initially make friends, she and her dog would walk for miles through different neighborhoods to explore the city.
Masakowski, a New Orleans native, also welcomed her with open arms. She introduced Cripe to her circle of friends. Cripe's pace of life is now much slower than the "hyper speed living" of a sprawling big city. "People are genuine here," Cripe says.
As a creative, Cripe also enjoys the local art scene. "There's a real tenderness to creations made here," she says.
While she's only been here a year, Cripe admits there is so much more for her to learn about the city. After participating in her first ever Mardi Gras season, she's enjoying that New Orleans is "a city of adults that take joy seriously."
---